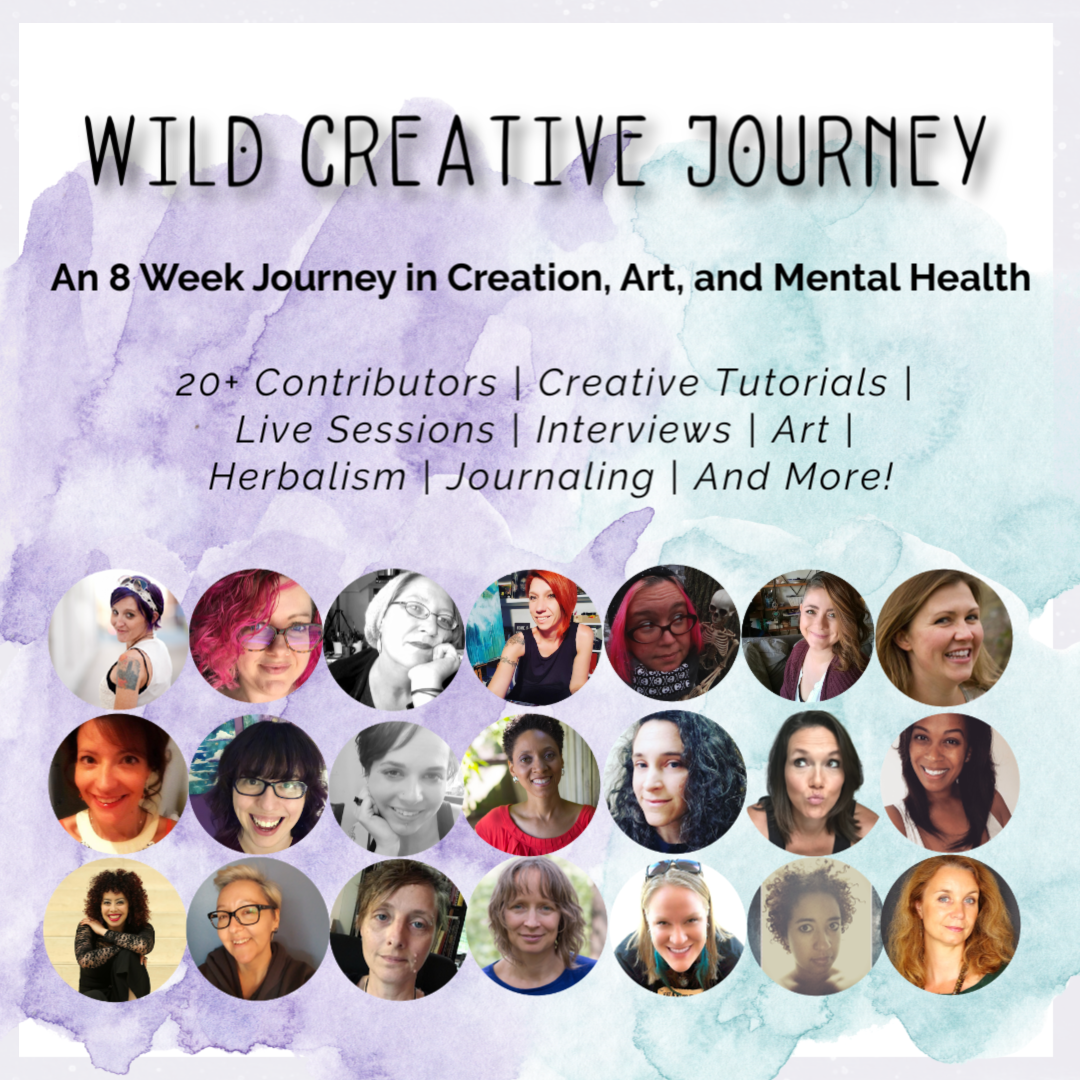 As an artist who struggles with depression and anxiety, who is also raising an artist with depression and anxiety, I've come to discover and cherish the healing, honoring, exploring aspects of creation. As a Crisis Counselor with Crisis Text Line, I've learned even more how much the world needs both creation and open discussion about mental health.
So, I decided it's high time we put mental health front and center in a creative class!
This isn't your typical art class. This is a safe space and sisterhood where we also happen to create!

In Wild Creative Journey, you can show up on your hard days and we will hold space. We will art journal. We will talk about coping skills. We will be your soft place to land, amid watercolor splatters and spilled ink. You can also show up on your great days, and we will celebrate those, too!
Come create with us, exactly as you are and where you are. We see you. We hear you. We love you.
This journey is about you, not just your creations.

The Wild Creative Journey starts on May 20th and continues for 8 weeks with a one-week break in the middle. It will be packed full of live sessions, art tutorials, live chats, talks on mental health


What will you find in Wild Creative Journey? 20+ contributors and a load of goodies!
Contributors




















Previous work from our contributors: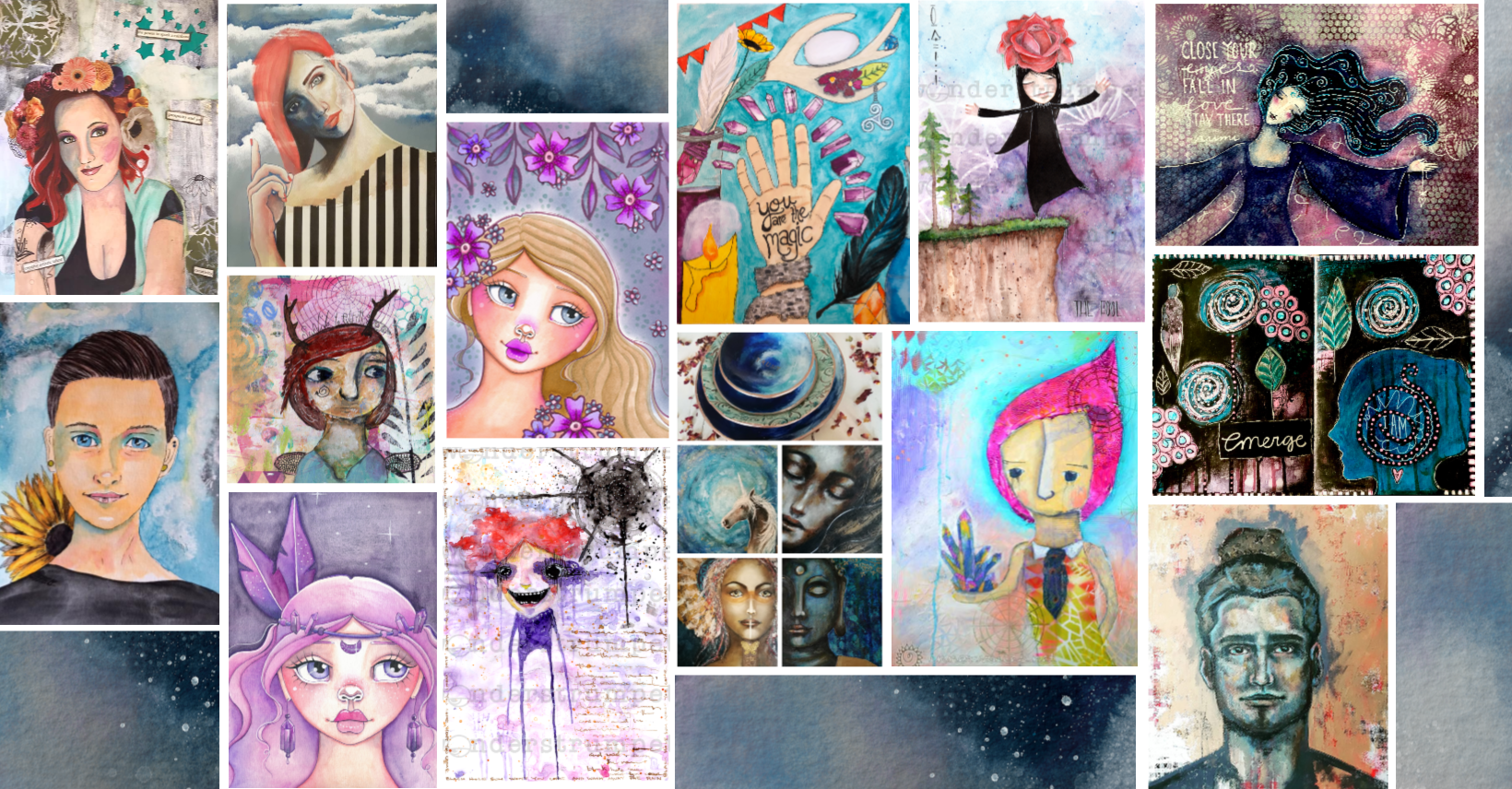 Within this course, you will find workshops with Shai:
Establishing and Maintaining a Creative Practice - video workshop

Creation is the most useful for our hearts, minds, and souls when we utilize it on a regular basis. With lives, jobs, and kids, that can be so hard to do. We will talk about the importance of a creative practice, and how to plan and maintain it, no matter what medium or creative outlet you prefer.
Unearthing Your Creativity - video workshop
I hear it all the time: 'Shai, I'm just not creative like you are'. Guess what? I'm not creative, either! As a matter of fact, my Aspie brain is so logical I have a hard time imagining much of anything. My focus in art, for the longest time, was portraits and landscapes - things you can see and recreate, without any creativity involved. Over the last few years, I've learned to stop trying to create with my super logical Aspie brain and dig deep into my roots to find my creative source. In this workshop, I'll teach you to do the same!
Utilizing Color for Inspiration - video workshop with color inspiration eBook bonus!
The color schemes found in nature can provide enough inspiration to get your creative juices flowing for anything from poetry to doodles to entire paintings. We will utilize bits of nature and photos to pull color schemes and use them in a variety of artistic ways, showing you exactly how one little spark can multiply into endless (and sometimes really easy!) pieces.
Turning Basic, Easy Drawings into Inspiring Art - video workshop and live drawing with Shai

For all of the 'I'm not creative' and 'I can't draw' types, Shai will be leading four videos on drawing basics and how to create art you can be proud of. We'll start with something simple and turn it into something giftable or suitable for keeping around the house! Examples are succulent art, household items/food/plants with personalities, cute animals like foxes and birds, a flower wreath or bouquet, and more!
Self-Care for Creatives
Did you know that Shai B is a trained and certified Crisis Counselor? She also struggles herself with depression and anxiety. In this workshop, she will talk with students about self-care, mental health, coping skills, utilizing creation as a coping skill, and even a bit of safety planning. The Wild Sisterhood firmly believes in removing the stigma from mental illness and mental health needs, and we will openly and compassionately support each other in this workshop.
Art Tutorial Classes for Individual Pieces, with Shai:
A Tree Through the Seasons
A watercolor exploration of a variety of techniques which will take us from Spring to Winter all on one majestic tree.
Sparkling Self-Portrait
No experience necessary to create sparkling self-portraits! We will mostly utilize watercolor, some acrylic (I use craft paint!), and ink pen.
Flowing Sunflowers

Learn how to paint loose, flowing flowers! One of my favorite watercolor techniques, with one of my favorite subjects - learning to do this changed my artistic life forever.
Create Your Goddess
In this class, you will create a painting of a goddess of your choosing, or create a goddess that represents you and your life! We will utilize mixed media, focusing mostly on watercolor, acrylic, and ink pen.
Masterpiece from a Magazine
In this class, you'll practice one of Shai's favorite projects - creating a 'masterpiece' (okay, well, a masterpiece for our levels!) from a magazine! So much creation can be sparked and brought to life after flipping through a magazine.
Mixed Media Dragonfly
Create a dragonfly piece using collage papers and watercolor or ink! This piece is easy even for beginners but results in a frame-able piece everyone will love, or a great starter in your art journal for writing out your thoughts.
Bee the Magic
Create a variety of magical honeycomb pieces in watercolor, varying from traditional golden colors, to rainbows to galaxies! Explore using handmade stencils and geometric designs to make watercolor washes appear more intricate and formed.
And, many more!
From our contributors:
Amanda Fall - As I Am: Art Journal Affirmations for Anxiety and Depression

Effy Wild - Art Journaling as a Healing Tool
Marielle Stolp - Creative Session
Nanda Boukes - a fun, Creative Session!
Kiala Givehand - Sister to Sister Chat with Shai B. on creation and healing
Sarah Trumpp - One of her infamous, weirdly amazing Creative Sessions!
Muriel Stegers - Mindset and taking action - becoming conscious of what drives us and reprogramming our habits.
Leah McDermott - Art Spaces for Kids + Live Chat with Shai
Petra Monaco - Sister to Sister Chat with Shai B
Ladina Battin - Documenting your Creative Journey
Annemiek van Helsdingen - Your Soul's Healing Power
Ruby Toad - Returning to Art and Creativity; Anxiety Tips Chat with Shai
Chanelle Brown - Culinary Creativity; The Green Rose Project; The Green Rose Project Creative Session with Shai
Iman Gatti - Self Love and Writing
Amy Everett - Creative Session
Nolwenn Petitbois - Creative Session: Art Journaling
Amy Wright - Sister to Sister Chat with the gorgeous soul behind The Drunk Mom
Katie Grace - Sister to Sister Chat with Shai B. on herbalism, the mind + body + soul connection, and creativity
Lindsay Liistro - Creative Session: Bullet Journaling
Addisinn Rain - Sister to Sister Chat with Shai on creativity and mental health
Bonuses: Coloring pages, a curated eBook of color palette inspiration, herbal recipes, step-by-step flower drawing tutorials, and more!
Come and join us - we can't wait to journey with you!